Some competitive electricity retailers offer "floating" price plans. These are rates based on the market rates, called a Flow-Through price, plus the retailer's margin (which usually ranges between 0.75 cents - and 1.5 cents per kWh electricity consumed). Like the RRO this fluctuates monthly. Rates are generally determined at the end of the month.
What is the difference between the RRO and floating rates?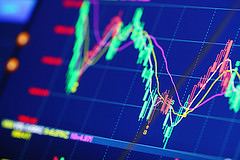 Floating electricity rates are based on the monthly market price
Both the RRO and floating rates are determined based on market conditions. However, in contrast to the RRO (which buys the majority of its energy requirements in advance), floating rates are based on current market prices. Therefore, while both the RRO and floating rates are influenced by market conditions, floating rates offer prices that are even closer to those of the wholesale market. The margins determined by the Alberta Utilities Commission AUC and competitive electricity retailers are also slightly different. RRO tariffs include a margin that allows the RRO provider to cover their cost with a "fair" profit margin, approved by the AUC. The margins set by electricity retailers may be lower than that of the RRO.
Why would I choose a plan with floating rates?
Some suggest that floating rates are cheaper than the RRO. Some energy retailers will also allow you to switch to a fixed rate plan if you think that prices will increase in the future
Are floating rates right for me?
A floating rate plan may be right for you if:
You want an energy price that closely reflects market conditions
You don't mind price volatility
If you still are unsure of what type of energy rate is best for you, we recommend that you take a closer look at your energy options. In Alberta, depending on your supplier you have the option of buying electricity at floating rates, the default rate (RRO), or at fixed rates. Finally, it is a good idea to compare the pros and cons of choosing fixed or floating rates before you come to a decision about which energy rate is right for you.
Can I cancel a floating rate contract?
With some notice (usually at least 10 days) you can end your floating rate contract without any termination fees. However, make sure to check the terms of your contract and be aware of your rights as a consumer.