Submitted by

Hilary

on Mon, 01/26/2015 - 11:55
ATCO Gas is the largest natural gas distribution company in Alberta, with more than 1.1 million customers in almost 300 communities.

Services Provided
ATCO Gas operates and maintains the gas transmission and distribution systems throughout its service area, and is responsible for reading and maintaining meters. ATCO Gas should be contacted for starting or disconnecting new gas lines, moving or altering a meter, or in the event of a gas-related emergency (gas leak, a fire involving or near a gas line, etc).
Service Area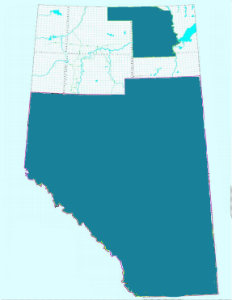 ATCO Gas Service Territories (in blue
ATCO Gas provides service throughout much of Alberta. It has offices in the following locations: Airdrie, Beaverlodge, Black Diamond, Blairmore, Bow Island, Calgary, Camrose, Canmore, Cardstone, Claresholm, Cochrane, Cold Lake, Coronation, Didsbury, Drayton Valley, Edmonton, Edson, Fairview, Falher, Fort Macleod, Fort McMurray, Fort Saskatchewan, Grand Prairie, High River, Hinton, Innisfail, Jasper, Lacombe, Lethbridge, Lloydminister, Nanton, Okotoks, Olds, Oyens, Peace River, Picture Butte, Ponoka, Provost, Raymond, Red Deer, Rimbey, Rockey Mountain House, Slave Lake, Spirit River, Stony Plane, Strathmore, Taber, Tofield, Trochu, Vegreville, Vermilion, Viking, Vulcan.
Company Organization
ATCO Gas is part of the ATCO Group, a Calgary-based global corporation that is involved in in structures and logistics, utilities, and energy.
A Simplified Organizational Chart for ATCO Gas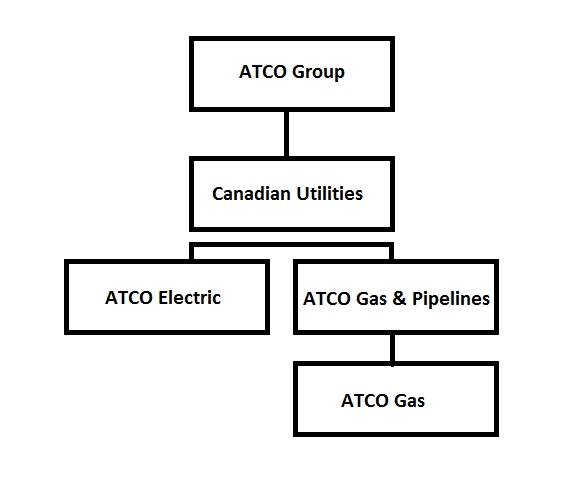 History
ATCO began as Alberta Trailer Hire, a trailer renting company that was created in Calgary in 1947. Throughout the 1950s - 1960s the company changed its name to ATCO and expanded its scope of activities to include trailer and housing supply sales, both in Canada and internationally. The company began working in Australia in the 1960s, and expanded further to include activities in electricity generation and services in the 1980s. In 2004 ATCO sold its gas retail supply business to Direct Energy.
ATCO Gas by Numbers
220 000

customers

2 900

employees

11 000

kilometres of transmission lines

68 000

kilometres of distribution lines
Call ATCO Gas
Emergencies
When in doubt call 9-1-1
Calgary Area Emergencies
1-403-245-7222
Available 24/7
Edmonton Area Emergencies
1-780-420-5585
Available 24/7
All Other Area Emergencies
1-800-511-3447
Available 24/7
General Enquiries
Toll-free Alberta: 310-5678
Calgary: 403-245-7888
Edmonton: 780-424-5222
Operating Hours: Monday - Friday 7:00 a.m. to 7:00 p.m.
Closed weekends and holidays
Twitter
@ATCOGas
Alberta One Call
Phone: 1-800-242-3447
Online: http://www.albertaonecall.com/homeowners
Learn about what options you have for your gas supply in Alberta